My husband and I learned this simple trick early on in our relationship and it cannot be undervalued: 2 comforters. Seriously. On the same bed. His and hers. Yours and mine. Yep, we each have our OWN.
Is that really necessary, you ask? Now it is. Until we had a stay at a wacky Staypineapple hotel for a memorable romantic getaway, we slept as most people do, under one cover together. Mostly contentedly. After one night with each having our own cozy cocoon though, going back was unthinkable. So peaceful. The superior sleep achieved that night was so revelatory that our slumber habits were changed forever. For the better.
Not very romantic you say? Ha! Nothing fuels romance better than a well-rested partner. Plus, we still sleep in the same bed.  If you get my drift. We just don't have a need to wrestle each other for the covers anymore while we sleep. Not that there is anything wrong with sleeping in separate beds. See note above about well-rested partners!
Doesn't it look weird though?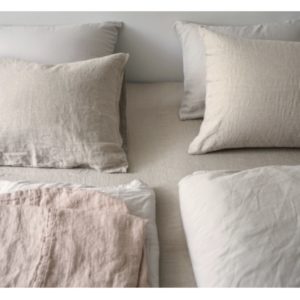 Well personally, no one else usually sees our bed except us. And maybe occasionally one of the kids coming in for a nighttime chat. Does the dog count? Anyway, we have a fitted sheet on the bed and each has a comforter that we fold in half lengthwise to fit side by side on the mattress. No top sheet and we don't miss it one bit. This would work with blankets, quilts, comforters, duvets, potato sacks, whatever you use for warmth at night. I think it looks ok, but you can make up the bed however you like for show, if that matters to you. But when it comes time to settle down for the night and sleep, do yourselves a favor and wrap up in your own covers. Your relationship will not suffer and may even be stronger for it! Ours is.